Understanding Executive Function and Its Impact at Home and in School: It's More than Clean Backpacks!
April 25 @ 7:00 pm

-

8:00 pm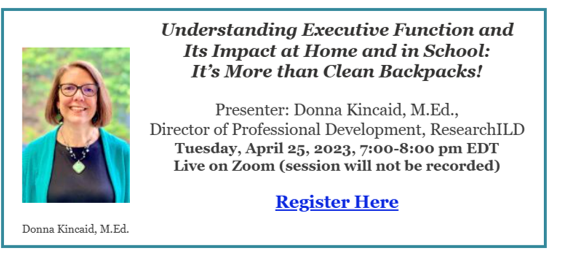 What is Executive Function (EF)?
How do EF weaknesses affect my child in school and at home?
How do anxiety and stress affect my child's ability to organize and complete homework?
What concrete strategies can help my child think flexibly, approach homework and activities confidently, and improve academic success
This presentation will help parents understand executive function and its impact on social-emotional behavior and academic performance. Parents will learn how anxiety can affect one's ability to plan, organize, and complete tasks (e.g., homework and chores) and typical behaviors that often result. Parents will leave with practical strategies to help foster greater independence, flexible thinking, and academic success in their children.